Conquer Your Fear of Flying with Hypnosis Chicago.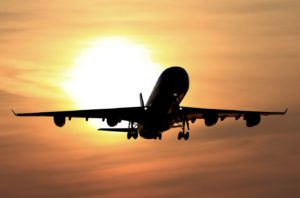 Over the years I've helped hundreds of people overcome their fear of flying with hypnosis. In fact, this is an issue that responds well to hypnosis.
My experience with clients is that if you have an imagination vivid enough to scare yourself, you have an imagination vivid enough to overcome this fear, and will probably do pretty well with hypnosis.
Imagine being able to:
Fly without fear

Relax and enjoy the ride

Read, watch movies, engage in conversations

Go where you want to go

Travel long distances to see family & friends & places

Enjoy your honeymoon without worrying about the flight

Tune out and ignore turbulence

Travel for business/pleasure without fear
Afraid to fly? You are not alone.
In general, most people who struggle with this issue are imagining the worst-case scenarios.  For instance, you might fear that the plane will crash. Or the mechanics missed something important. Or you take any normal turbulence as a sign of impending disaster. Many feel trapped and out of control while flying. What happens if I can't get out?
You are literally scaring yourself into your fears.
The good news? Hypnosis can break these repetitive thoughts and help you feel safe and comfortable while flying.
Under trance, I can use that great imagination of yours to help you overcome your fear of flying. In fact, many of my clients report that they now actually enjoy the experience of flying. They now ignore any turbulence, view it as white noise, and are able to read, watch movies, and engage in conversations as if they were on a train or bus.
---
Actual Client Experience:
"First off I wanted to let you know that I flew this week and I thoroughly enjoyed it!! I was totally relaxed and unafraid. In fact on the flight home I was so relaxed that I did not even notice that there was a medical emergency on board. I'm not kidding – I missed the whole drama, the flight attendants running down the aisle with their emergency equipment, etc. Isn't that funny? I was absorbed in my book and just mellow. And I loved the feeling of being up in the air. Even the turbulence, taking off and landing were totally fine – exciting, even. This is life-changing for me. Thank you so much."  Ellen C.
Letter from client:
"Rebecca, I wanted to let you know about my latest flying experience.  I did the two hypnosis sessions with you a month before flying. I also listened to the CD about five times before flying.

I was still nervous the upcoming days before flying.  I wasn't sure if hypnosis even worked.  I normally would take several zanex pills before and during my flight.  I would still get severe panic attacks.  The morning of my flight, I woke up relaxed.  About two hours before take off, I took half of a zanex. Right before boarding, I took the other half.

The flight was totally fine.  During takeoff, I was relaxed.  I slept most of the flight and had no panic attack.  Landing was the same, I was fine.  I actually enjoyed my vacation up until the day I had to fly home.  The flight home was the same. I wanted to thank you so much.  I never thought I would be able to fly without panic again.  Im very happy and proud of myself." Sheila M.
"I went to Rebecca after a frustrating 5-6 years of being afraid to fly. I grew up flying with no problem, but intense stress and anxiety manifested itself into a crippling fear of flights. I spent years anxious about it and wondering if I would ever fly again. On somewhat of a whim, and remembering a friend mentioning hypnosis, I decided to give Hypnosis Chicago/Rebecca a try. I don't want to say I was skeptical, but I was certainly afraid my mind wouldn't be open enough to engage in the therapy. However, I was wrong! I had 3 (yes, only 3!) sessions with her and has it changed my life. I flew two times last week with no problem. I listened to the tapes of our sessions on the plane during takeoff and I never felt an ounce of fear."    Page R

"I was having some real problems flying and this has helped immensely!! Huge difference with just 3 sessions. I was so happy I'm going back to work on some other things. Rebecca has been very professional and is great to work with. She was clear that this helps many people but not everyone. Luckily, I was one of the ones it helped. I'd recommend her to anyone! "  Kate M
"These are all true case histories. However, results will vary from individual to individual depending on how well you respond to hypnosis, how many sessions you do, how often you listen to the recordings."
---
How are such dramatic transformations achieved?
It's important to silence your inner fear-monger.
To start with, I use relaxation techniques to help quell your fears and lower stress about life in general, because every issue gets better when we do this.
Then suggestions are given to counteract the repetitive thoughts and beliefs you've been telling yourself. For instance, if you are fearful of turbulence, I suggest that "turbulence goes with the turf, it's just white noise, you ignore it," and so on. Your individual thoughts and triggers will be addressed under trance.
I also use a startle technique to help you stop listening to your inner fear-monger, that voice in your head that is scaring you.
My program also includes some powerful NLP techniques to help you "reframe" how you feel about flying, so that you associate it with something pleasurable. This can greatly diminish fear.
Depending upon the complexity and intensity of your fear, 4 sessions are generally recommended for this issue.
---
Rates

 
Your first session is a full 90-minutes so that we can do a thorough intake.  All first-time clients MUST register for a 90-minute session, and then may purchase one-hour sessions later.
This is for a follow-up session on the same issue and runs 60 minutes
My most popular package, is a two-hour, two 60 minute sessions back-to-back designed to be used for one issue.
*** Save with a Package ***
3 Sessions for $525 …  SAVE $ 70 
4 Sessions for $650 …  SAVE $125
6 Sessions for $925 …  SAVE $200
You will be able to book a specific appointment date/time after the package is purchased.
---
Fly Without Fear Today

Check the Schedule Availability here
Book an Appointment TODAY
Questions?  eMail me at rlauer@hypnosischicago.com